I LOST MY GEMS
[ILMG002]
Stand der Ermittlungen
(Rauschgyft, Mythoz, Style)


Softcover 
248 Pages
Circle Offset 100g/m²
Self Published
1st - 4th Edt. of 50
2022
+++
Video
Found Footage, Plunderphonics
68 min
4:3:16:9
DVD+R
+++
C-Prints
900x1250 cm
Rocket Photo Satin
190 g/m²
> ilostmygems.net <
https://www.instagram.com/i_lost_my_gems
https://ilostmygems.bandcamp.com
currently exhibited at Motto, Berlin (22.09. – 14.10.2023)

past exhibitions:
TV HiFi, Karlsruhe 21.10. – 04.11.2022
delphi_space, Freiburg 23.06. – 23.07.2023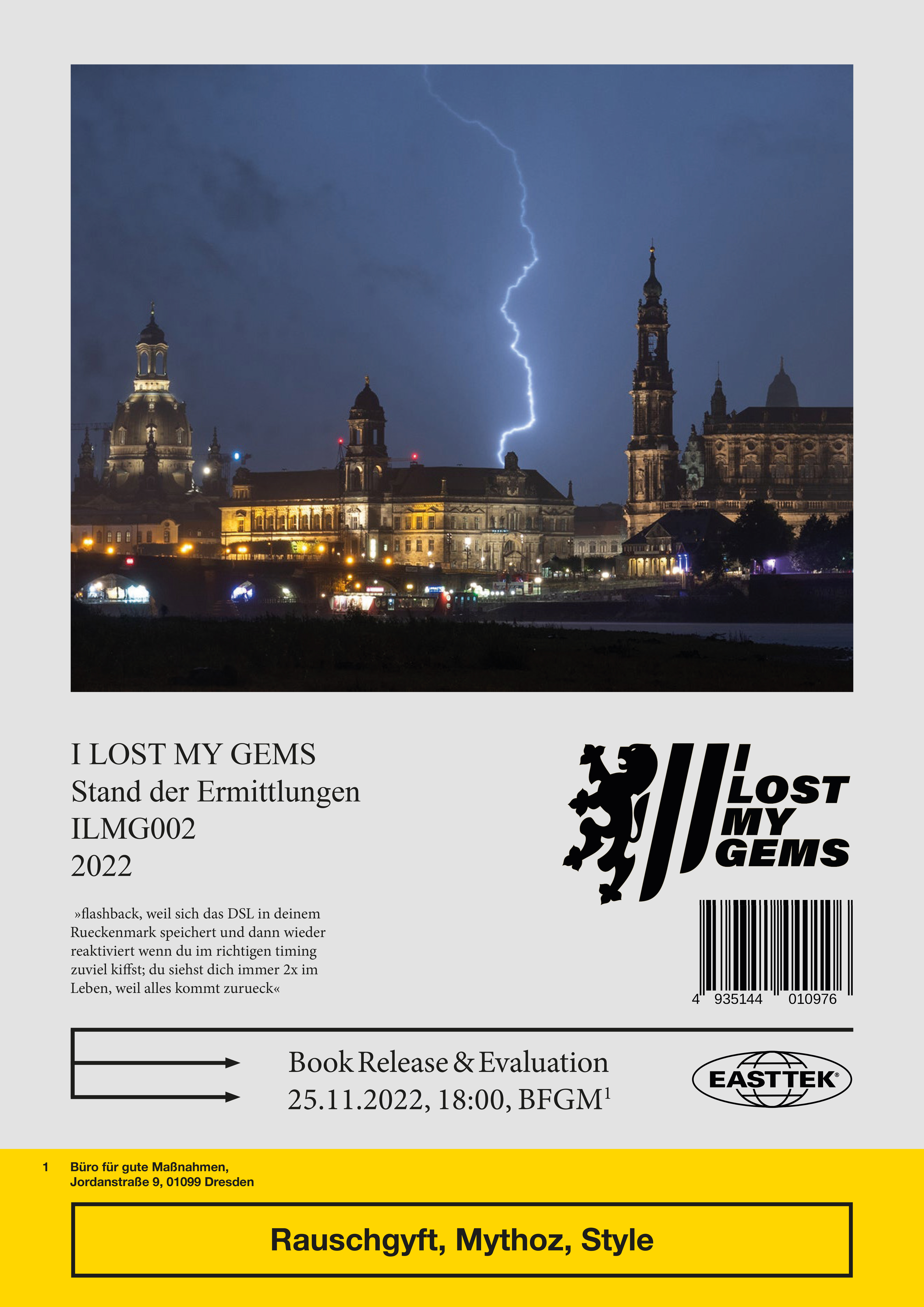 I LOST MY GEMS [ILMG002] "Stand der Ermittlungen" (Rauschgyft, Mythoz, Style) ist eine Fortsetzung des 2021 produzierten Hörstücks ILMG001.
Nachdem im Jahr 2019 zahlreiche Kunstobjekte und Schmuckstücke aus dem Grünen Gewölbe des Dresdner Residenzschlosses entwendet wurden, berichtete die ganze Welt davon. Die Berichte und Beschreibungen des spektakulären Falls, mischten sich schnell mitsuspektem Vokabular, Projektionen und Vorurteilen gegenüber der Stadt Dresden und ihrer Bewohner*innen. Die Diskrepanz zwischen eigenen Erfahrungen und vermittelten Zuschreibungen Dresdens bilden den Ausgangspunkt des Projekts "I LOST MY GEMS". Manuel Sékou – der in Dresden aufgewachsene Künstler hinter dem Projekt – richtet seinen Blick aus der Distanz zurück auf seine Heimat und Jugend in den 2000-10er Jahren, um sich mit Dynamiken der deutsch-deutschen Geschichte innerhalb der eigenen Sozialisierung auseinanderzusetzen und soziopolitische Verhaltensmuster mit der Frage kollektiver Verunsicherung zu verbinden. Parallel zu den Ermittlungen der Soko Epaulette entsteht hier eine Suche nach den Schätzen der Erinnerung bzw. Spurensicherung verborgener Symptome der Vergangenheit in der Gegenwart, um so den X-Faktor Dresdens, der sich jenseits des medial vermittelten Bildes der Stadt und ihrem Umfeld verbirgt, über den Modus der visuellen Sprache zu entschlüsseln
english description:
After the heist of historical jewellery and art objects out of the Green Vault in Dresden, the case has been reported worldwide. The reports and narrations around spectacular incident quickly drifted into peculiar vocabulary, provoking projections and prejudices against the city of Dresden and its citizens.
The discrepancy between personal experience and conveyed attributions about Dresden do manifest the initial point of the project "I LOST MY GEMS".
Manuel Sékou – raised in Dresden and the artist behind the venture – directs his perspective back to his hometown and youth within the years of the 2000-10s, to confront dynamics of the inner-German history in relation to his own socialization and thus to carve out dispositions of socio-political patterns of behavior induced by collective uncertainty: interference of adolescence with shadows a collapsed system…
Sampling in parallel to the investigations of the Soko Epaulette (special commision) the project seeks for treasures of memory and collects potential pieces of evidence of hidden symptoms of the past in the present. To decode the X-Factor of Dresden beyond the mediated area's image through the mode of visual language.

Tagging:
Mythos, Nostalgie, Reality Check, Hauntology, (Post-)Memory, Identität, Distortion, Dialekt, Jugendkultur, Post-DDR, Ost-West-Debatte, Klasse, kollektives Gedächtnis, Generation Y, Digital Adopters, historiografische Metafiktion, Links-Rechts-Gut-Böse, Waybackmachine | NON-Sens, Visual Language, Hypertext,  Poor Images, Subversion, Fern-Sehen, Appropriation, performative Fotografie, Domino, Sampling, NON-Design, Multi-Authorship, Crowdsourcing, Audio & Image Re-Cycling, deconstruction, throwback, inter-view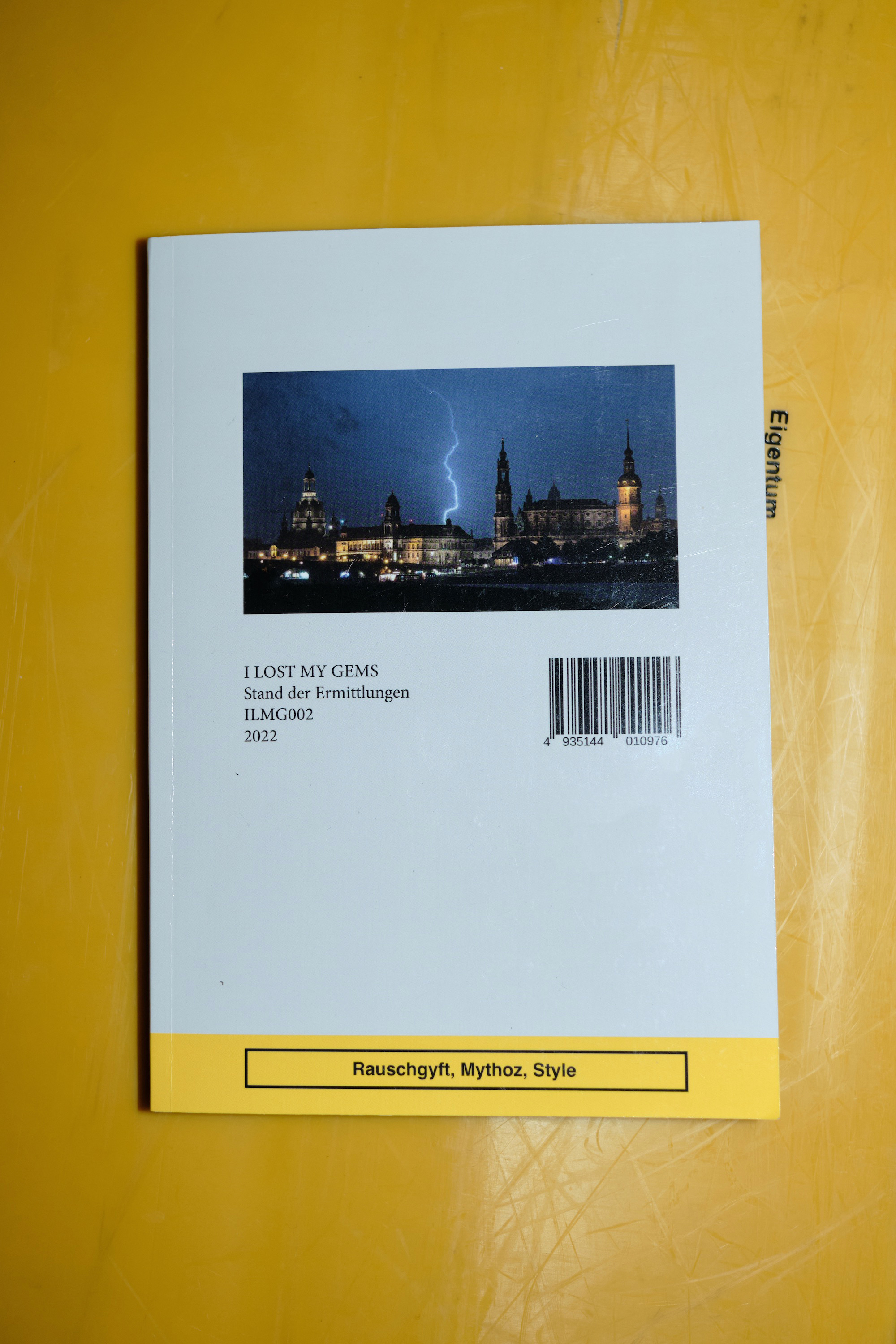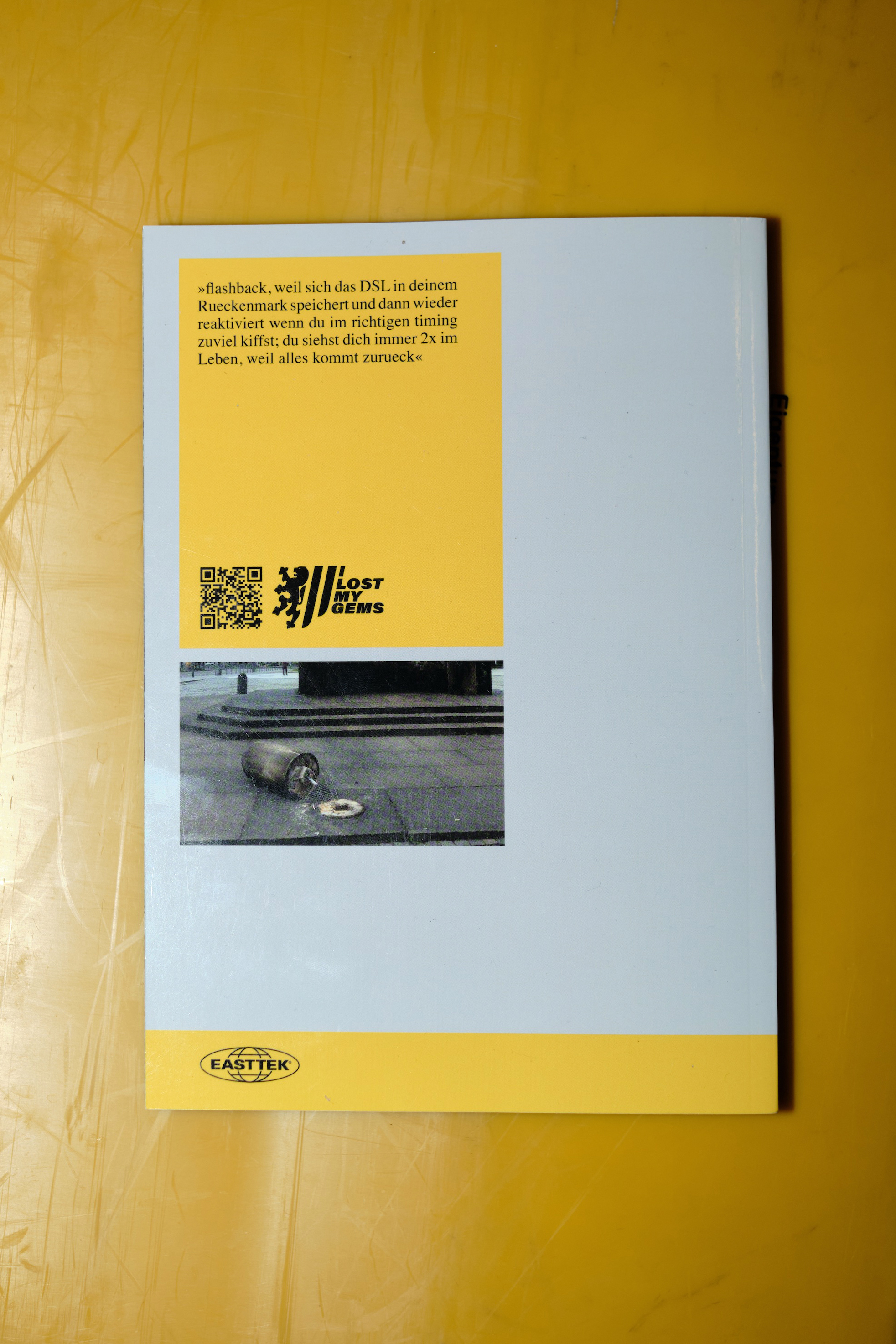 Publication Preview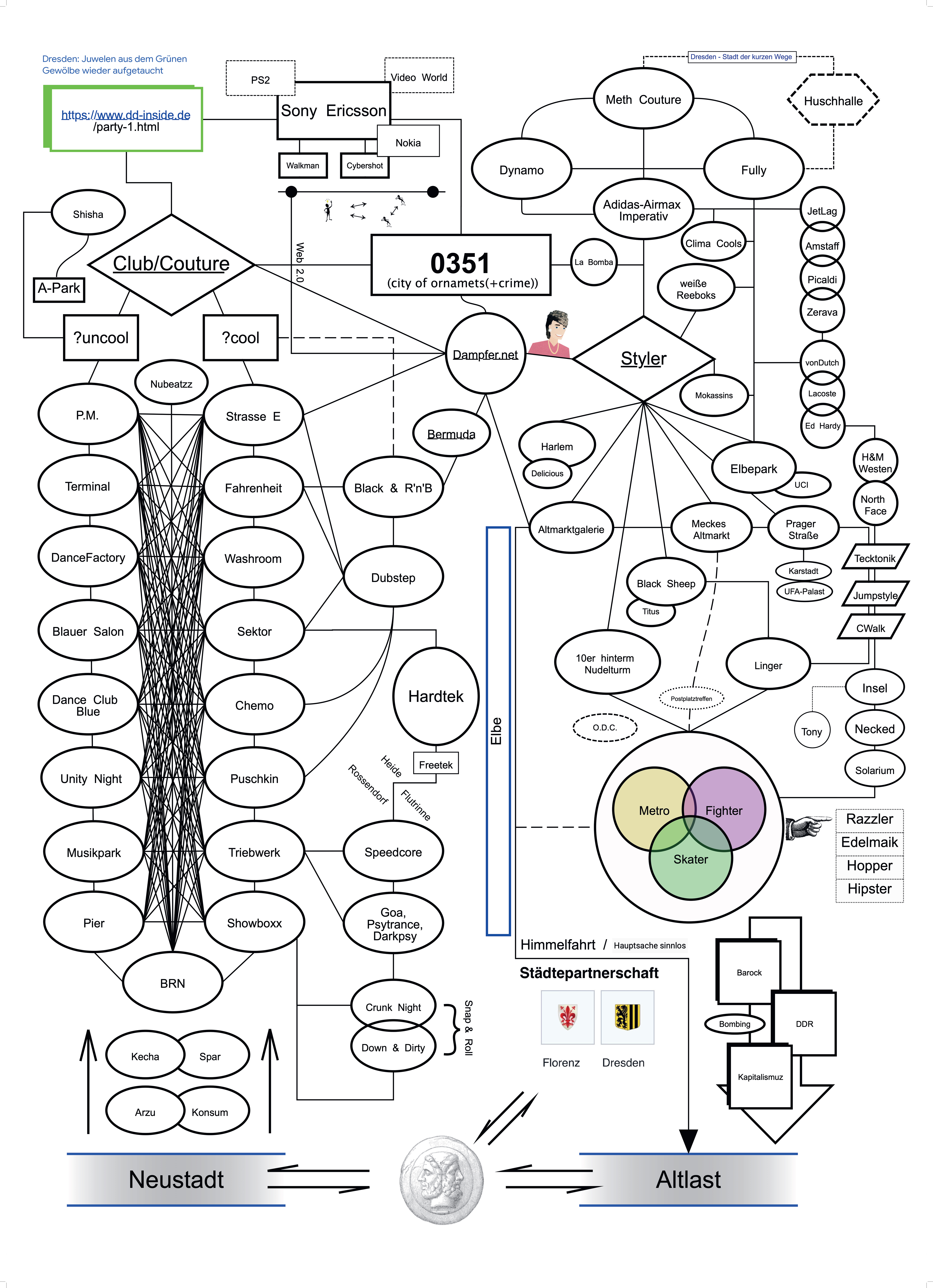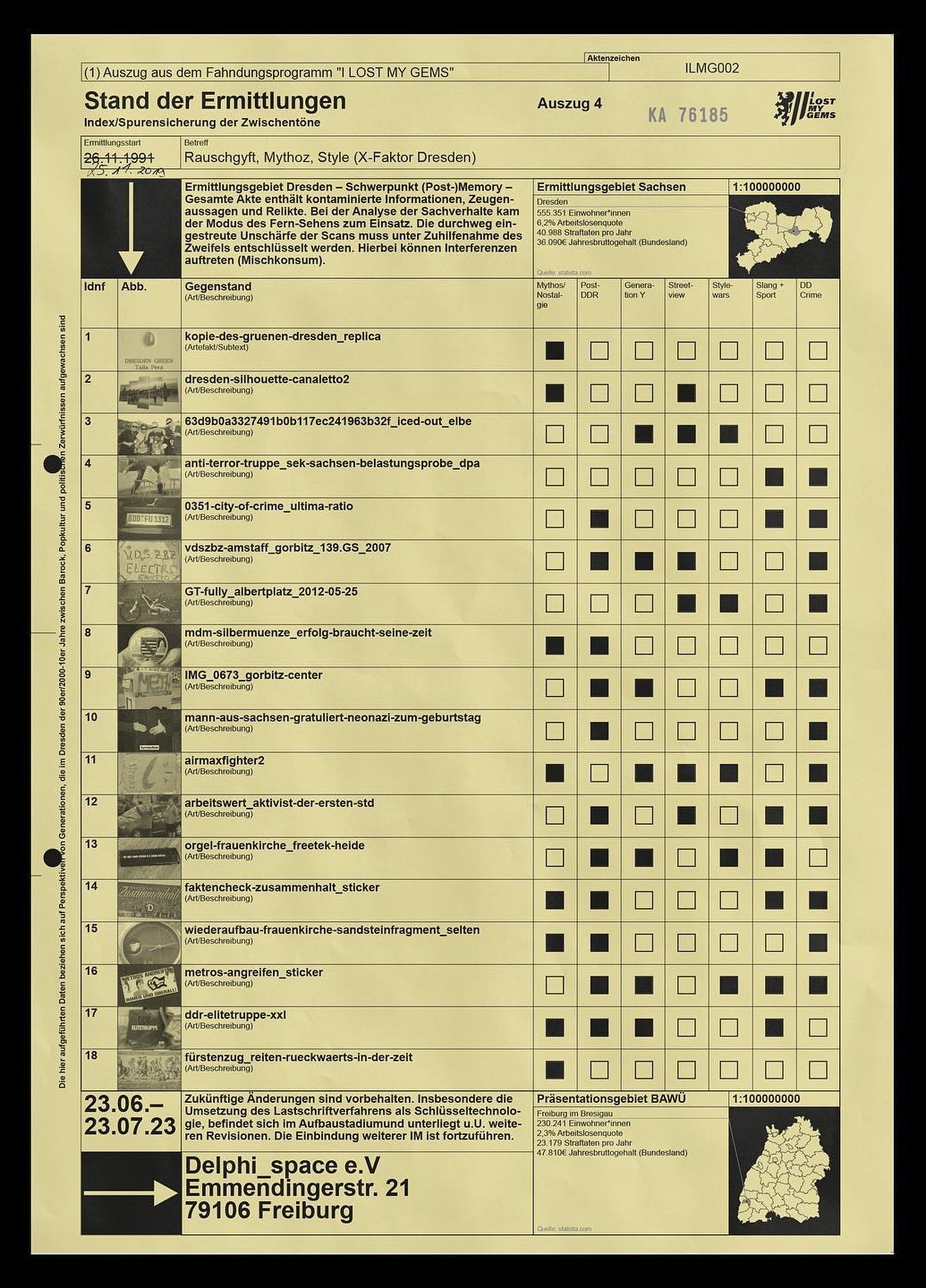 poster design by Max Schropp for ILMG002 @delphi_space, Freiburg
---
Exhibition View
TV-HIFI, Karlsruhe, 10/2022
13 C-Prints, 900x1250 cm
6 Softcover Books "ILMG002"
Video Loop, 68 min., stereo
Loewe Xelos TV
IMG Stage Line PA 2.1
Hazer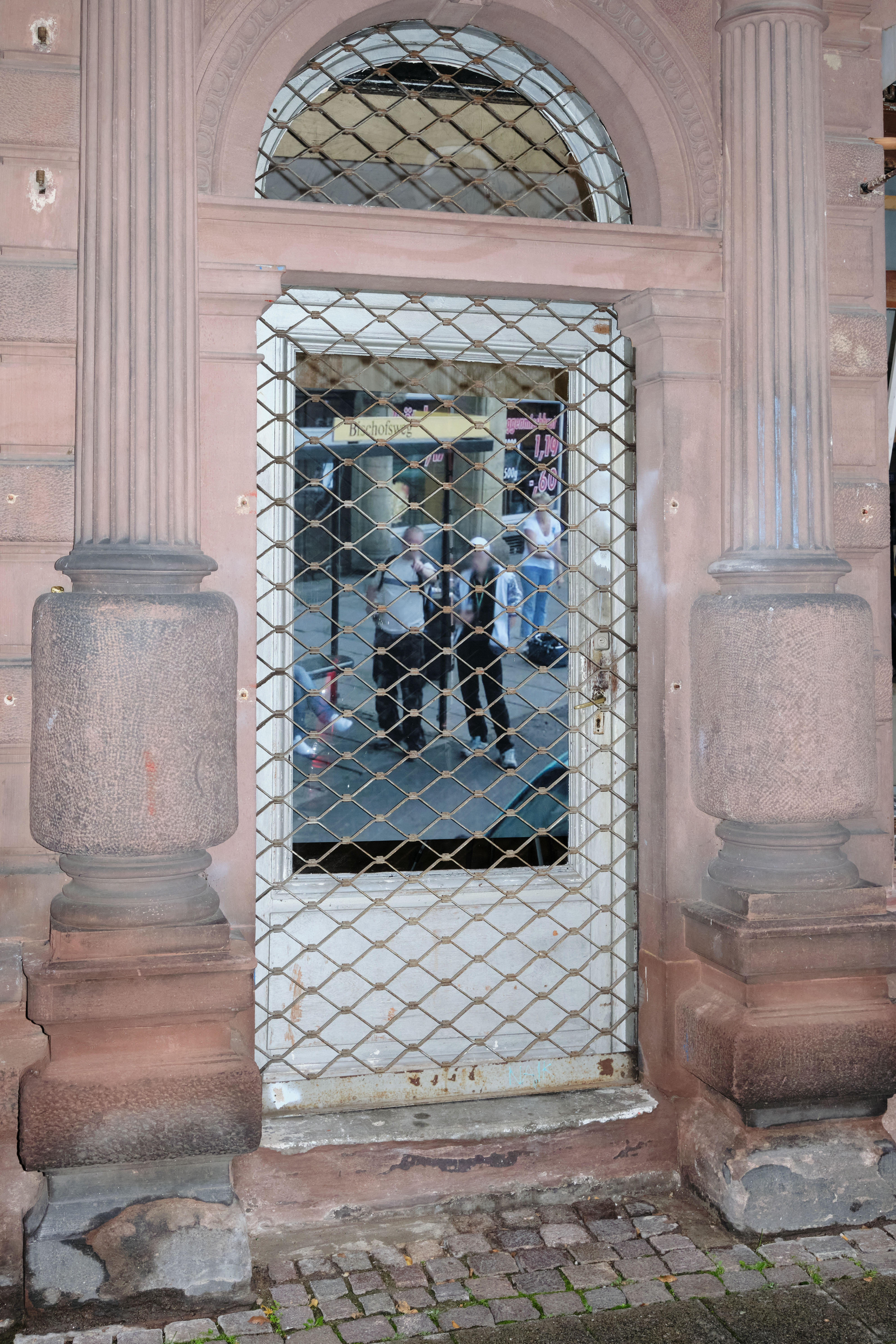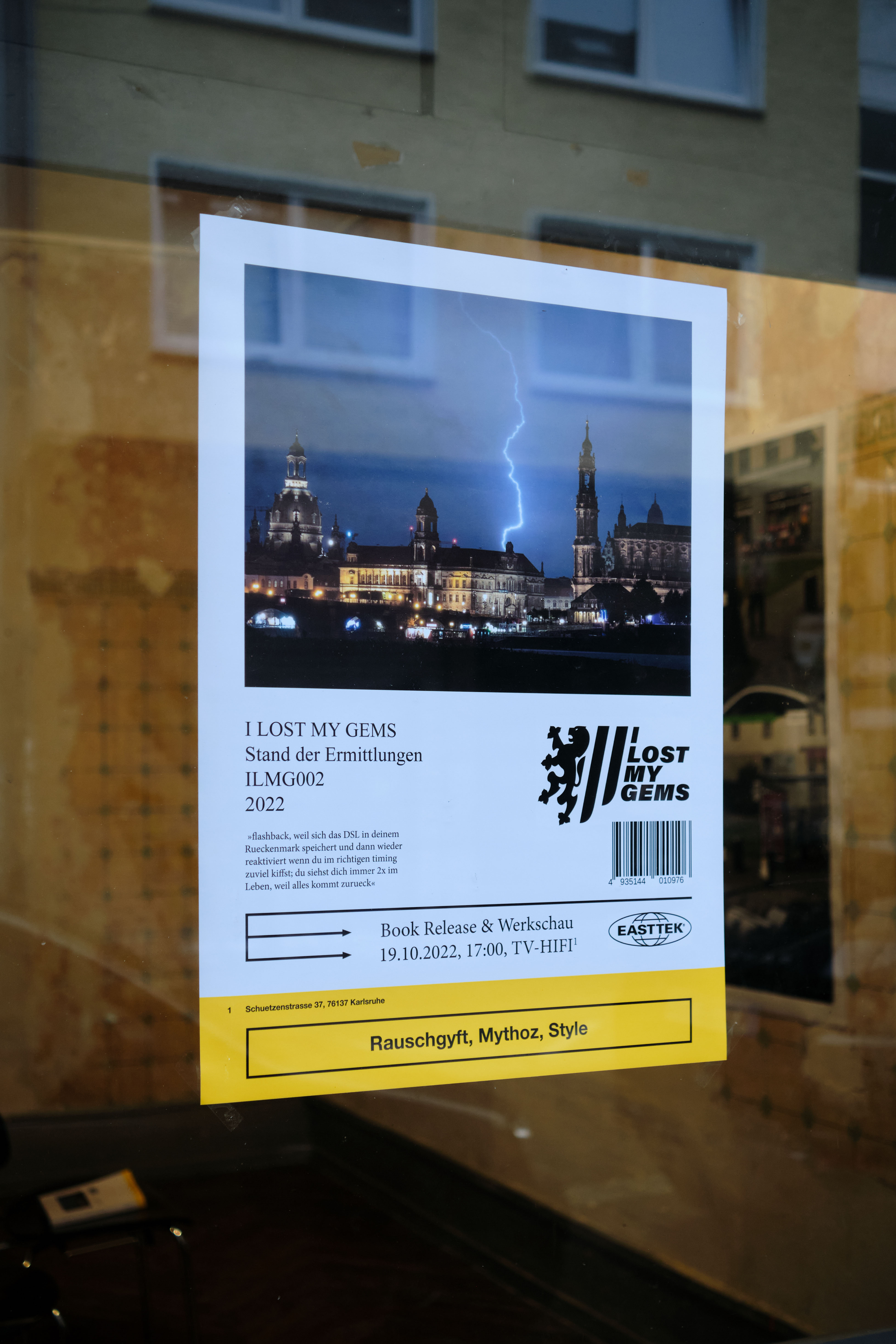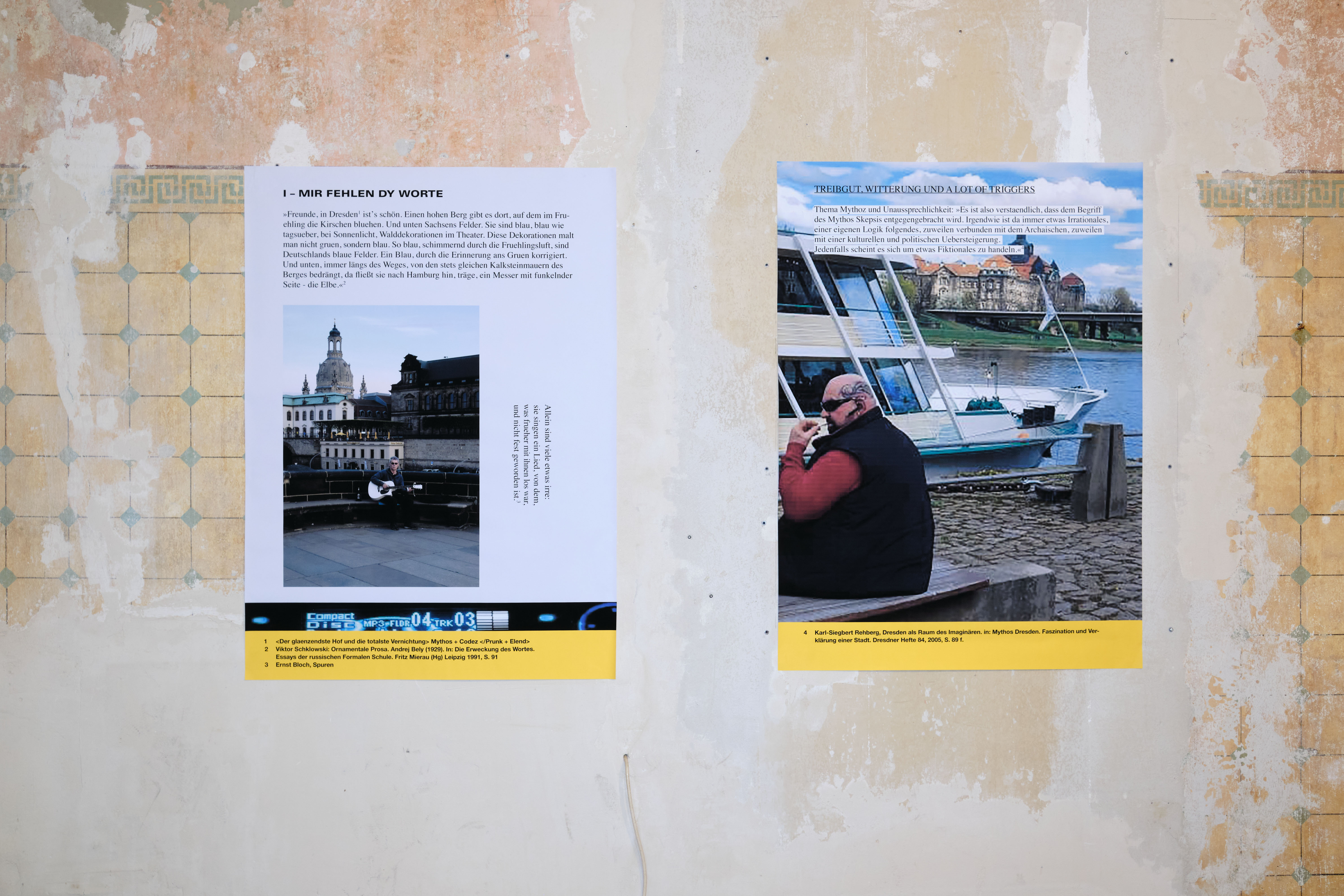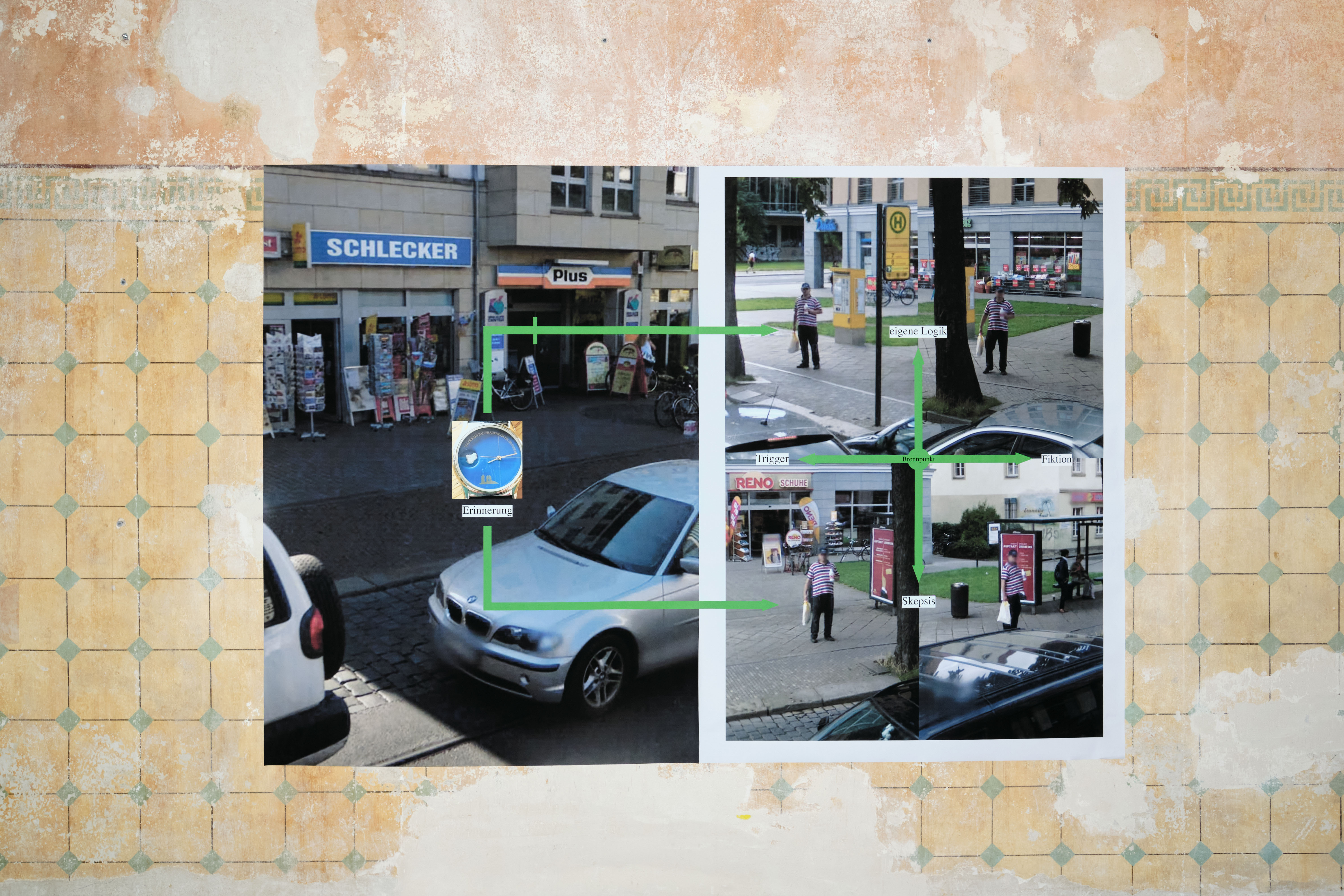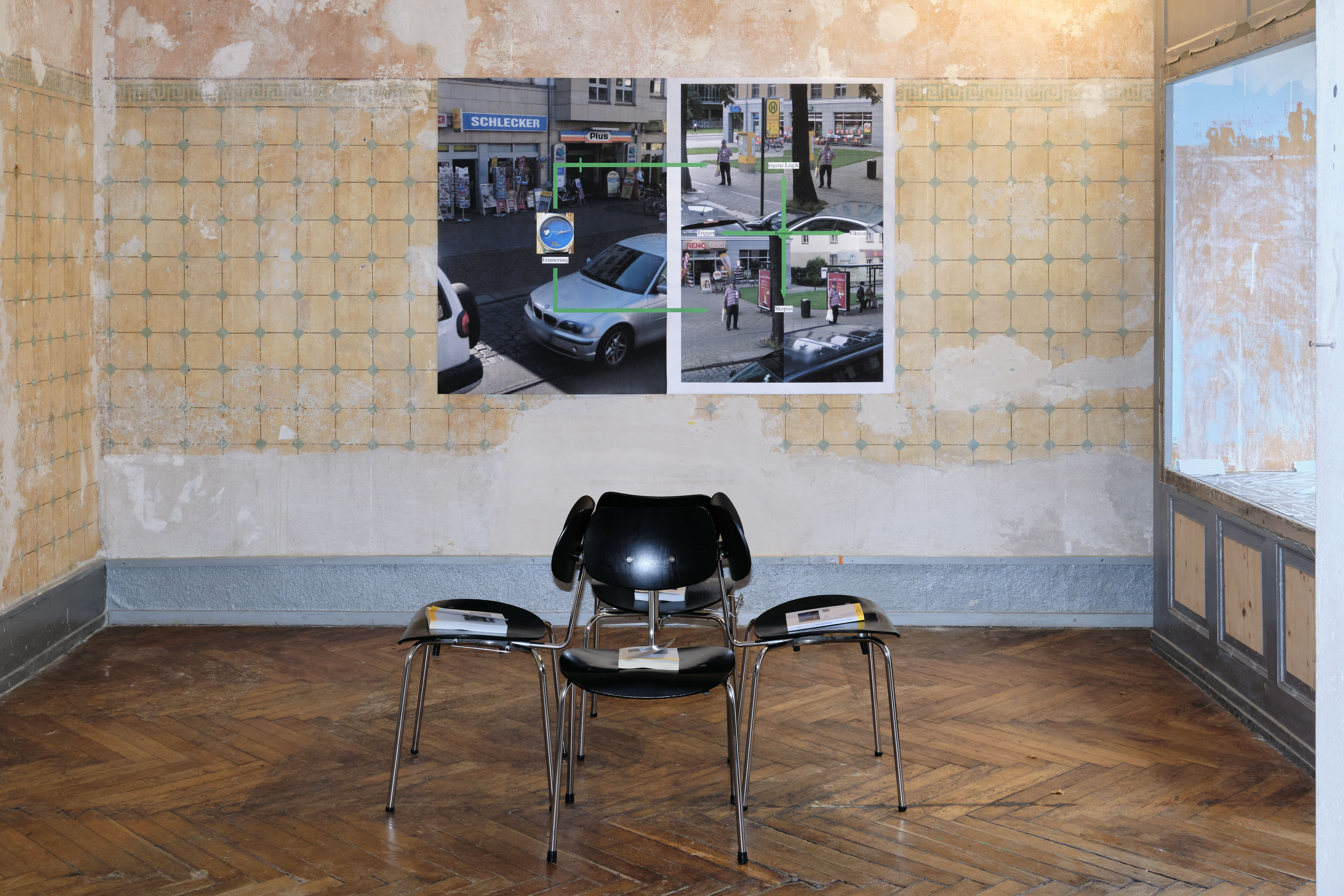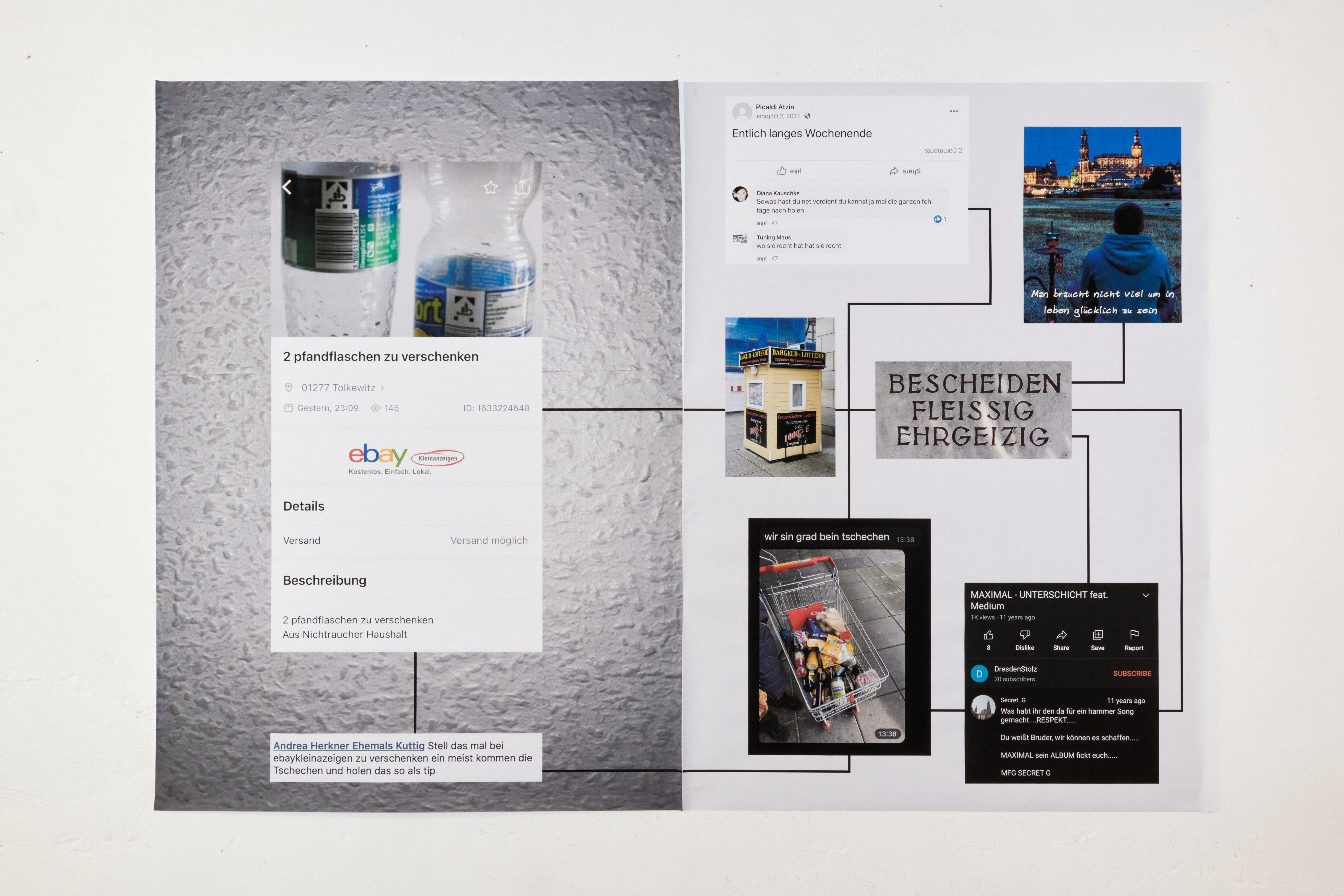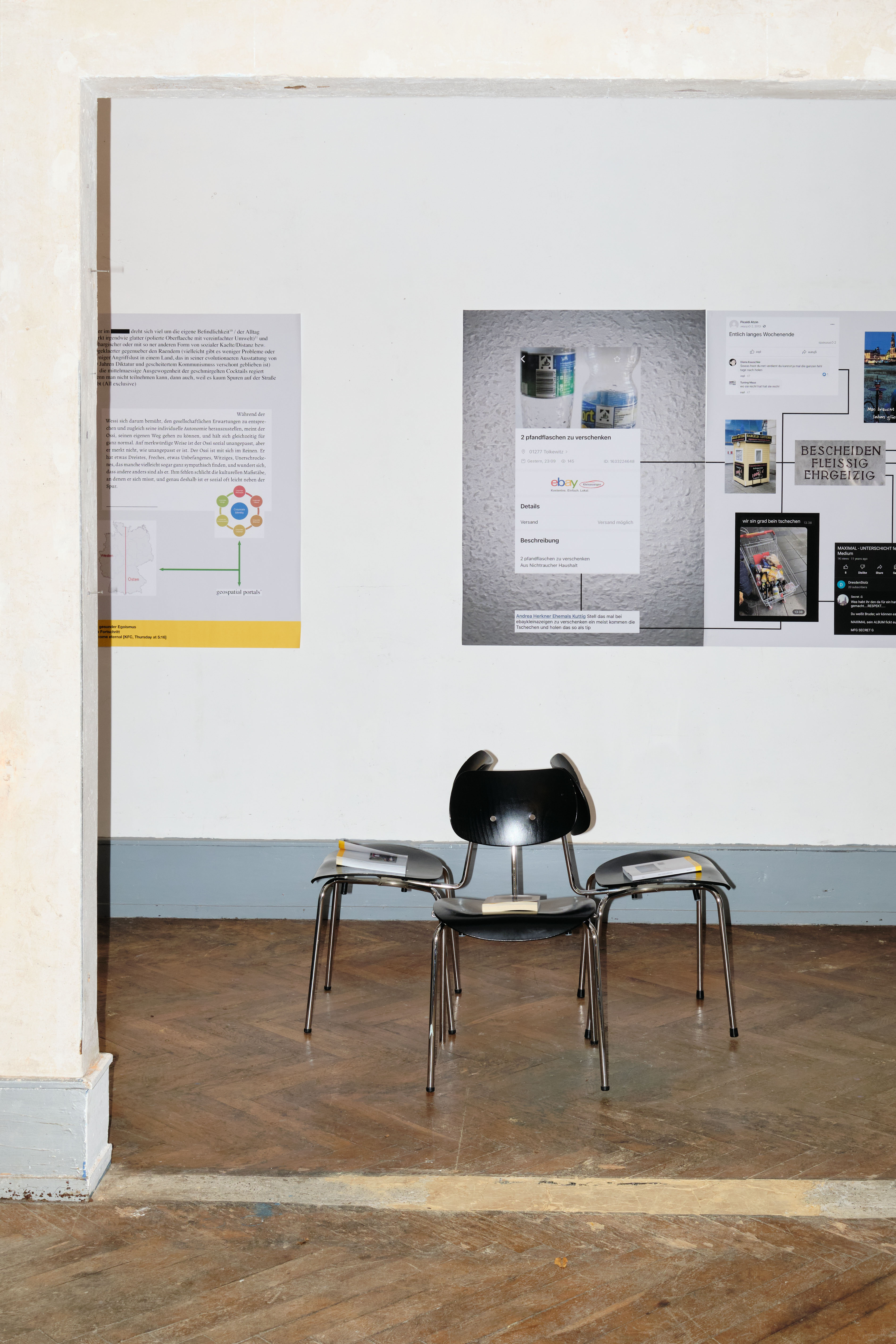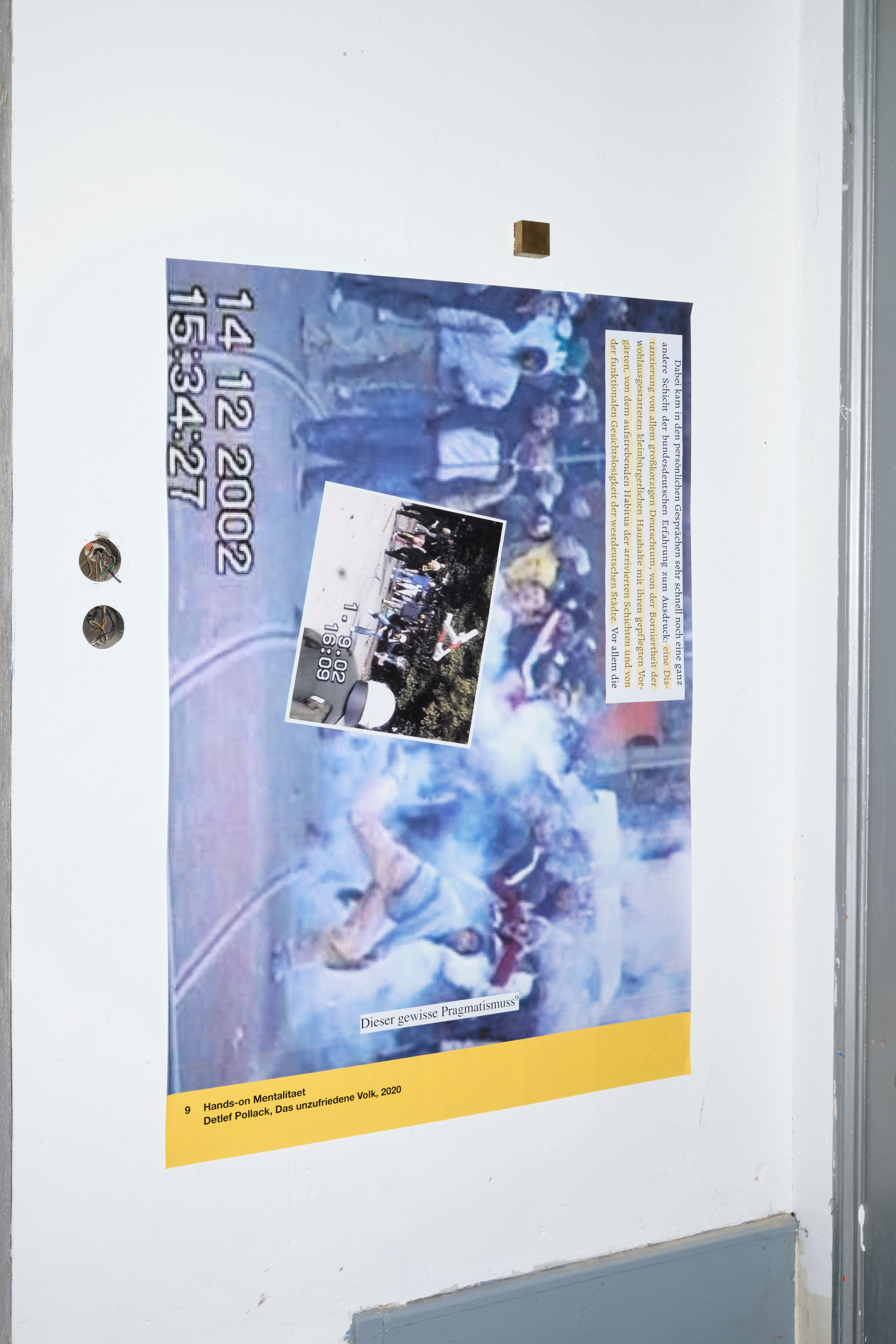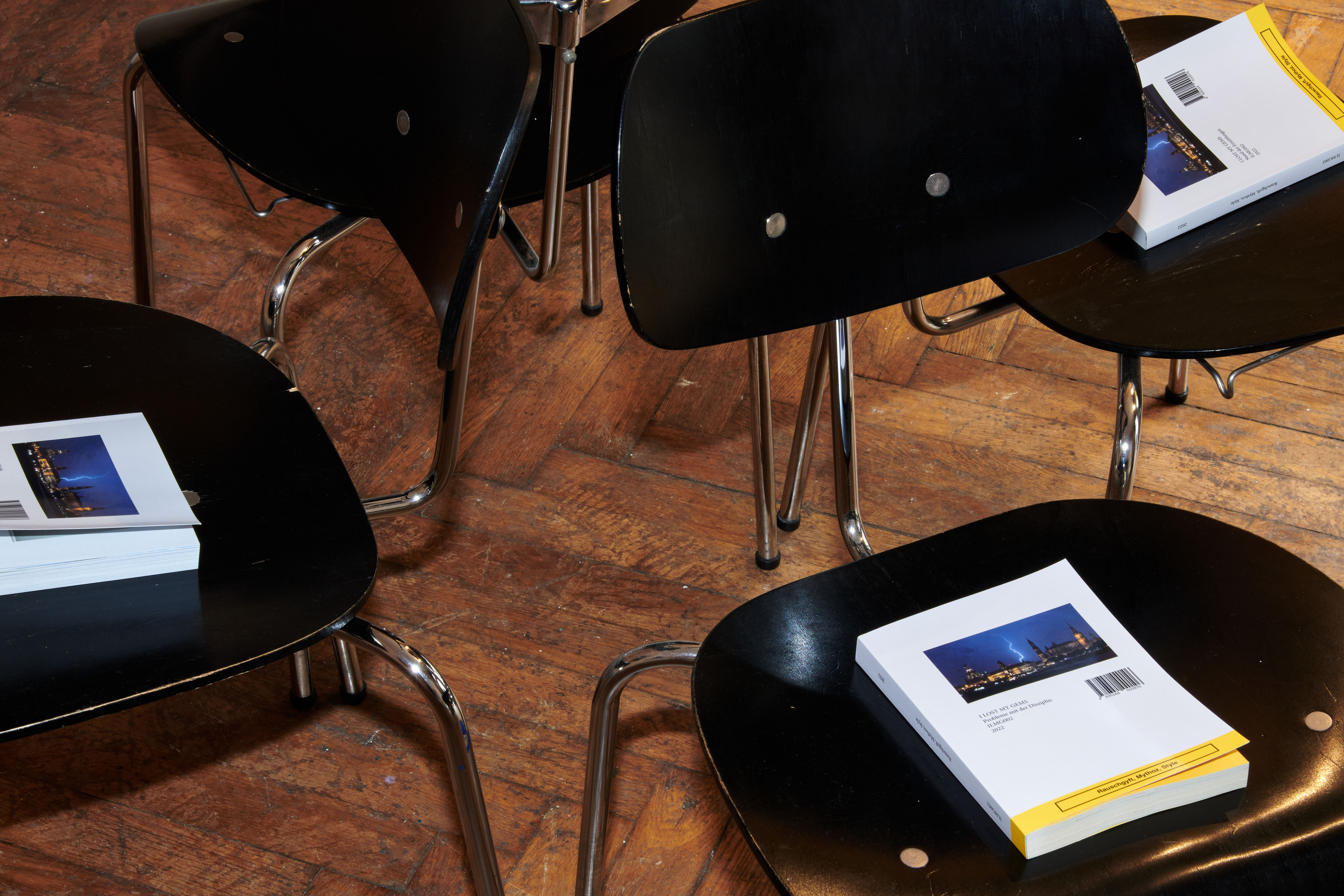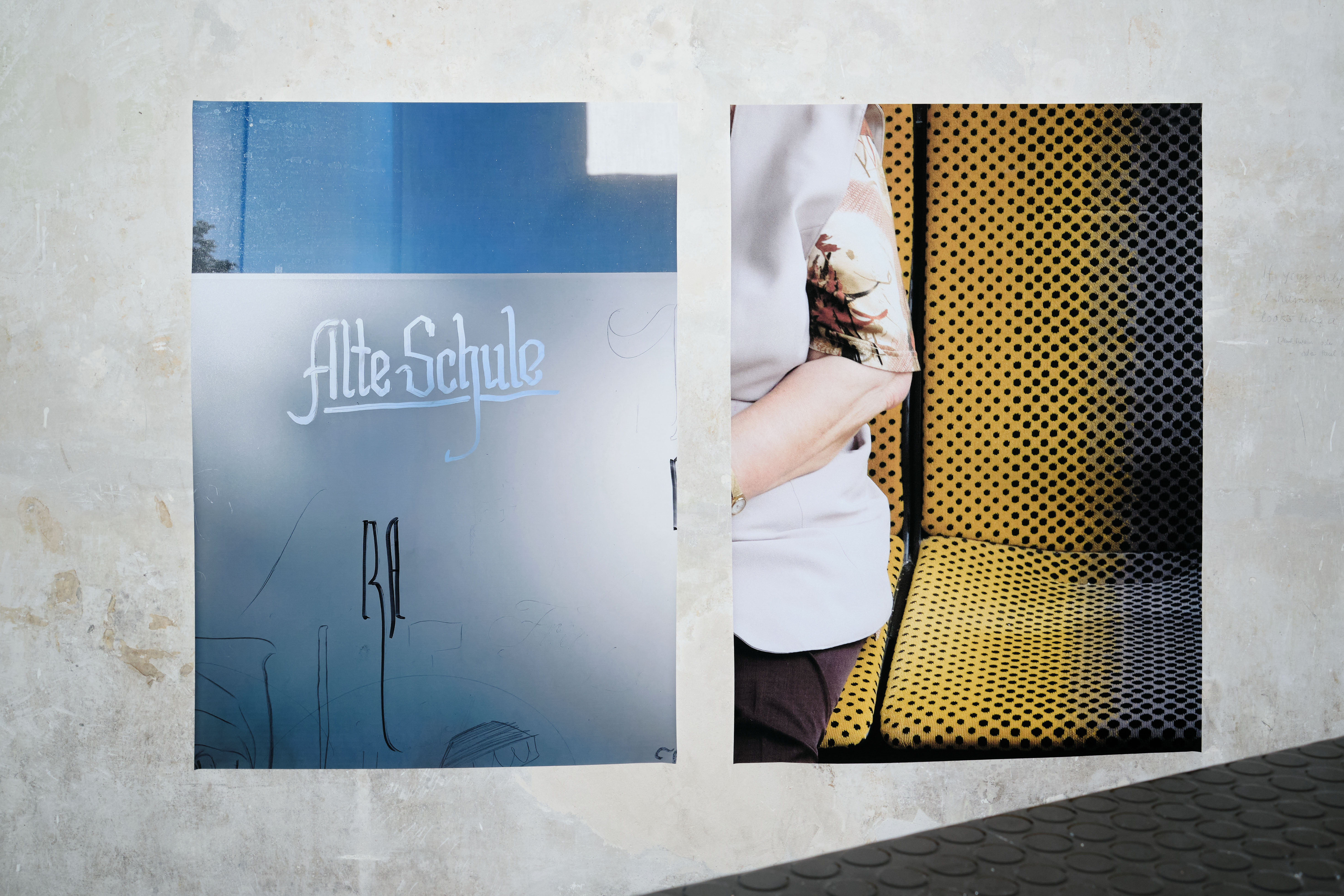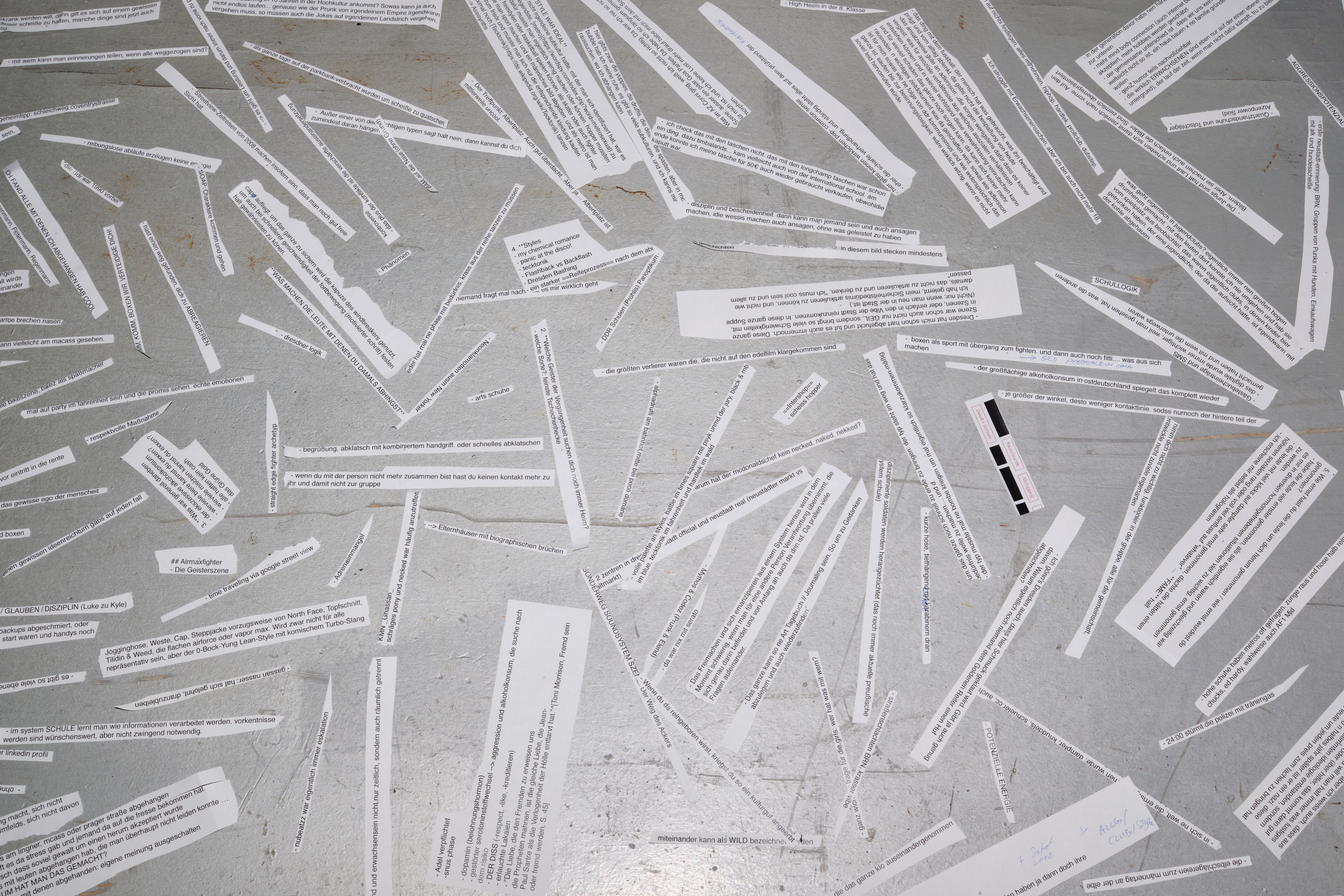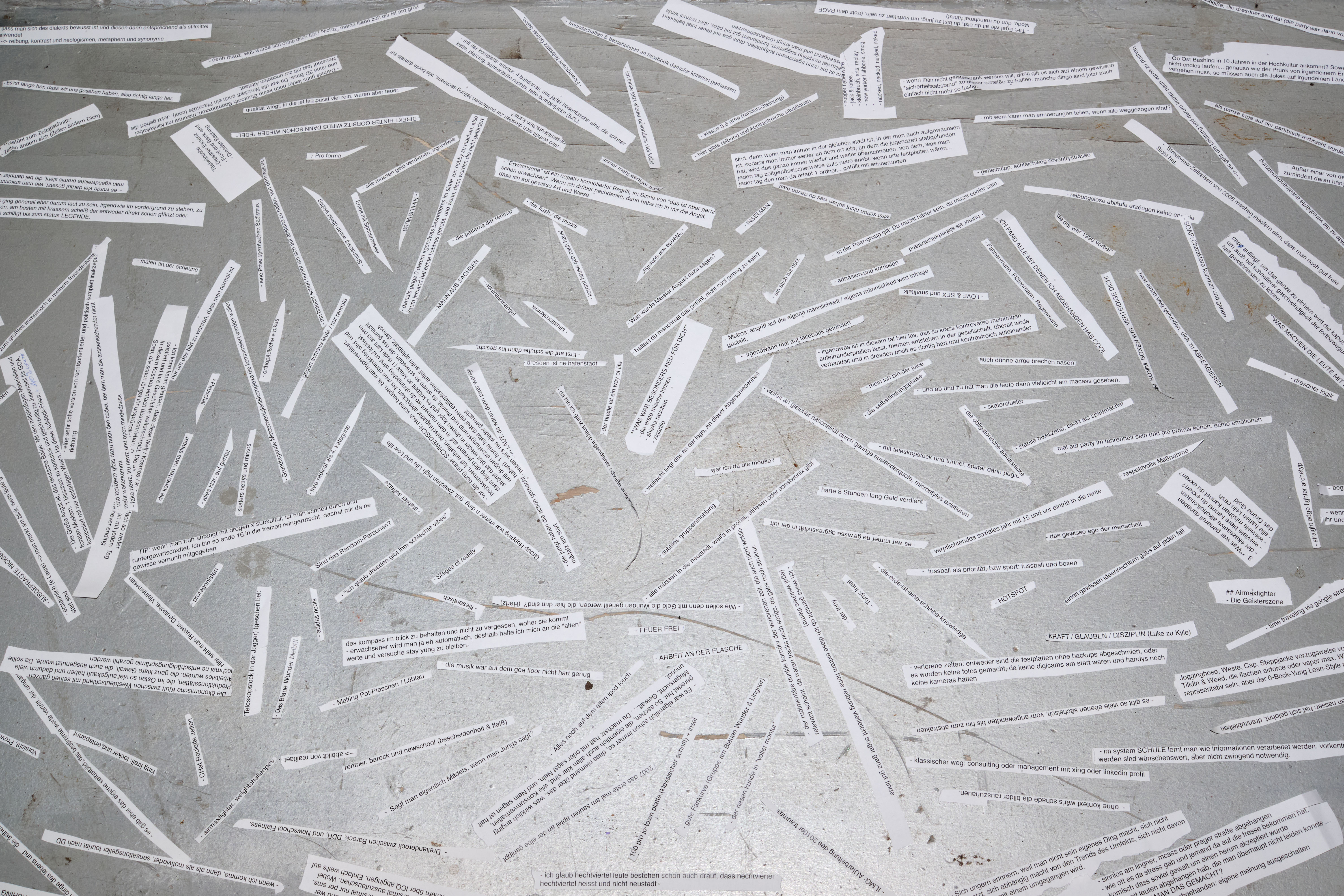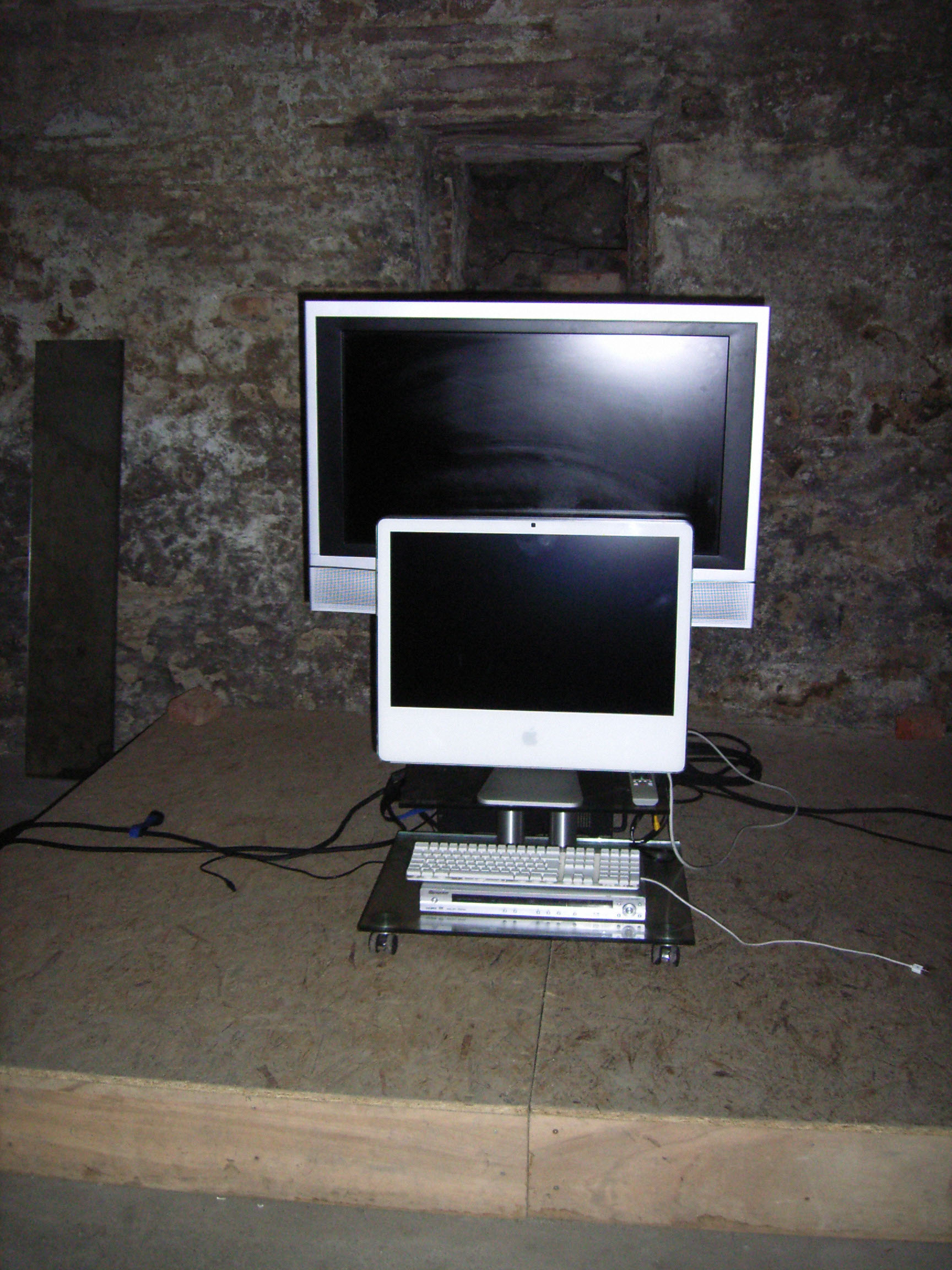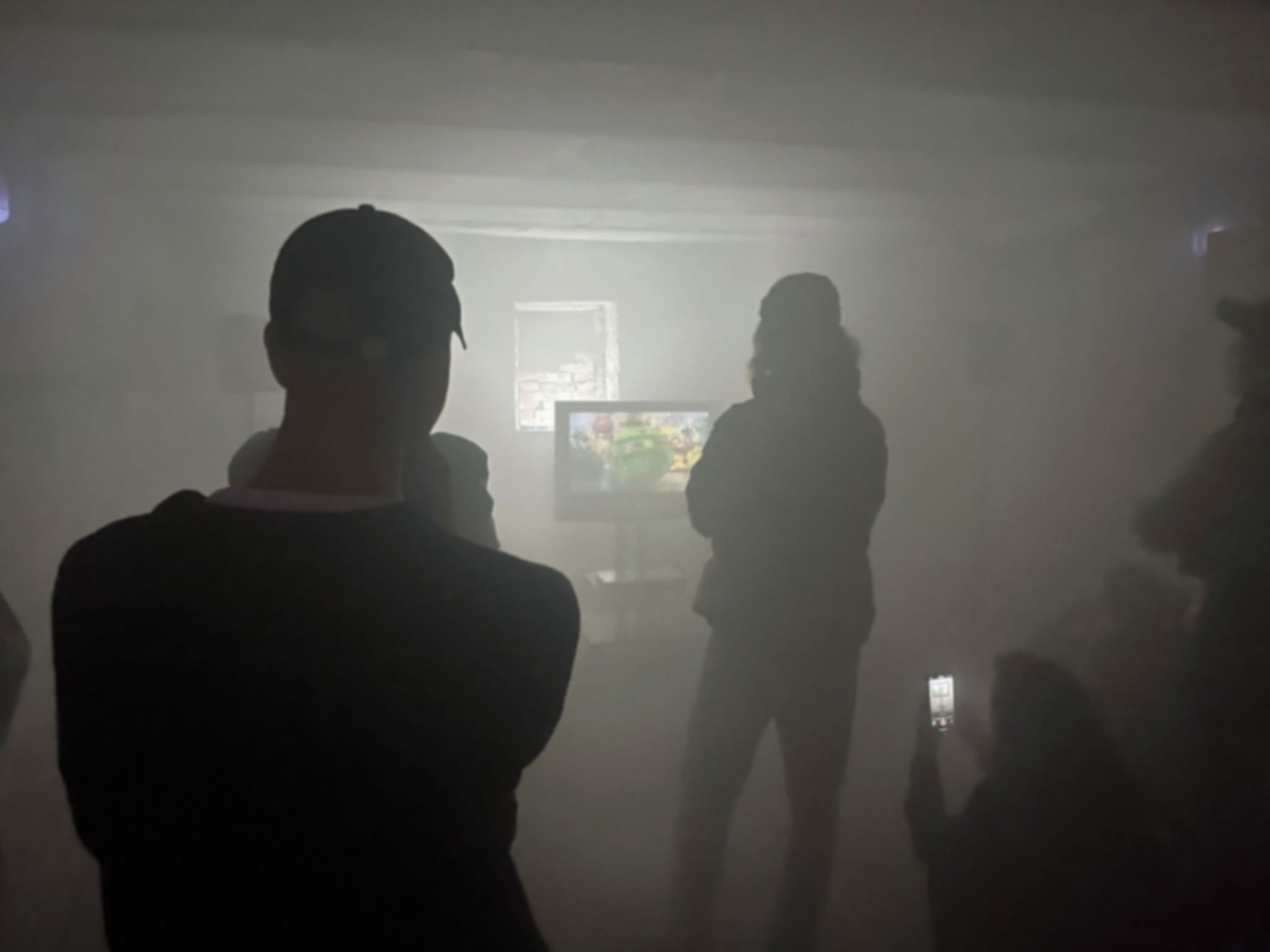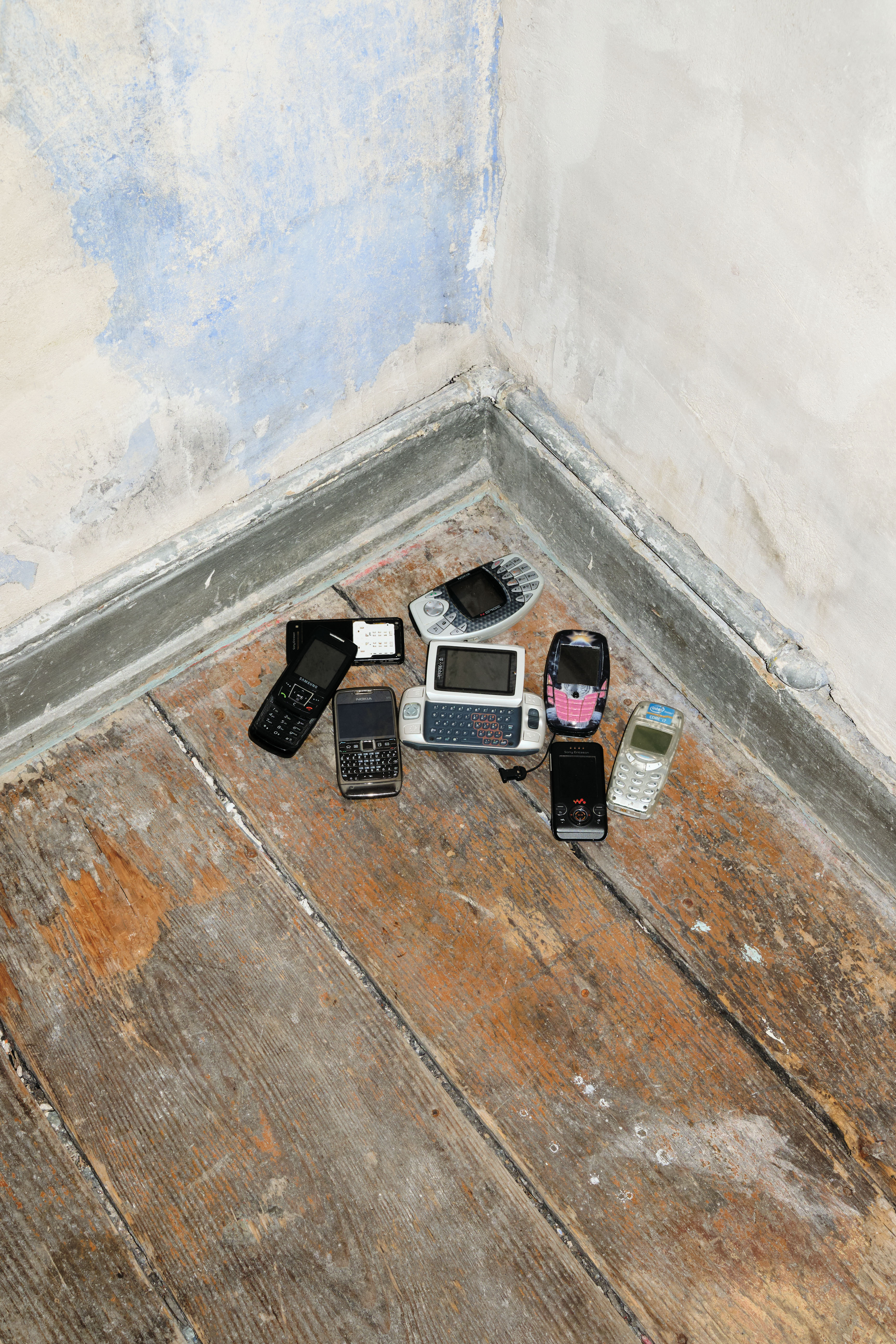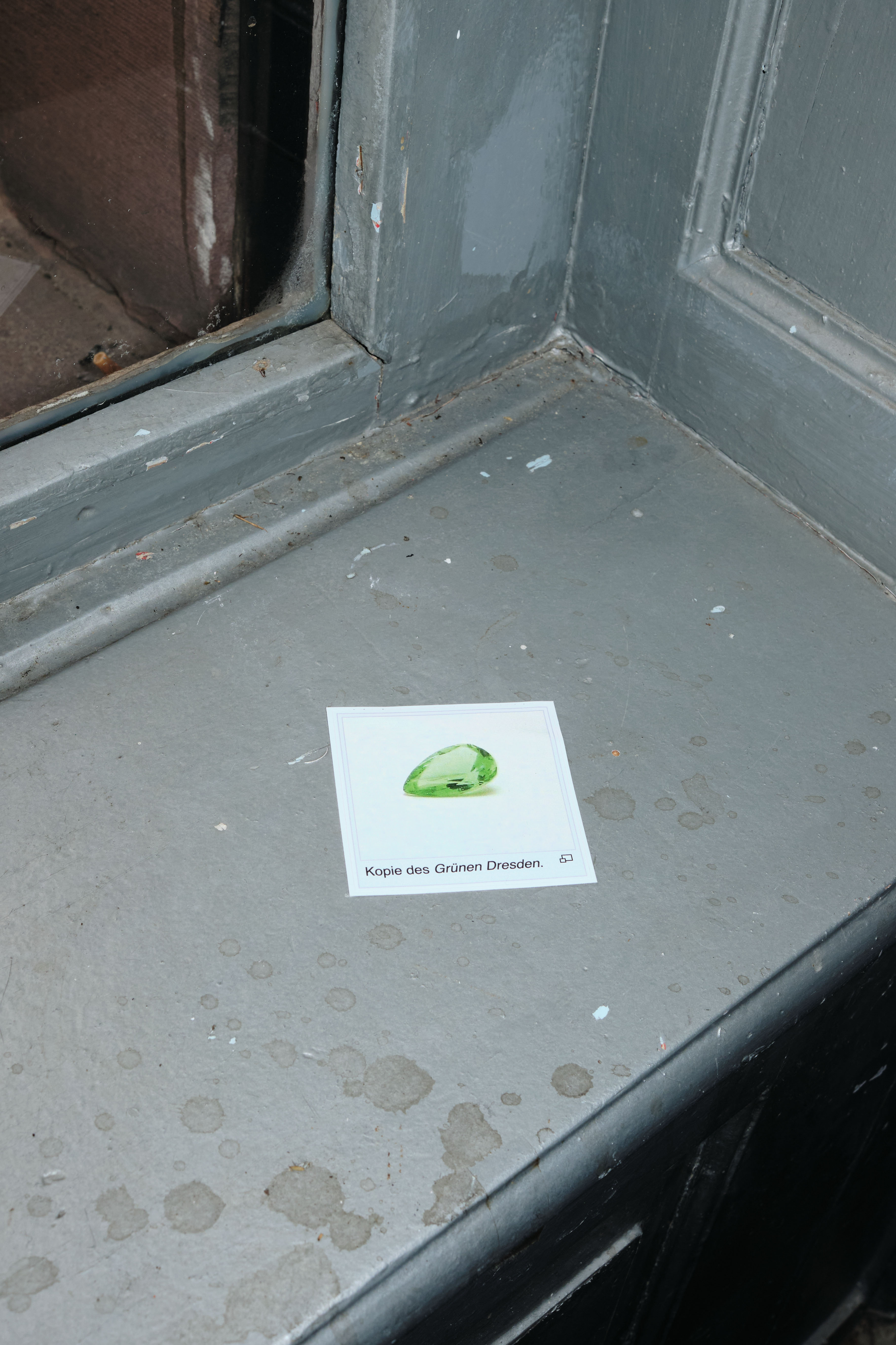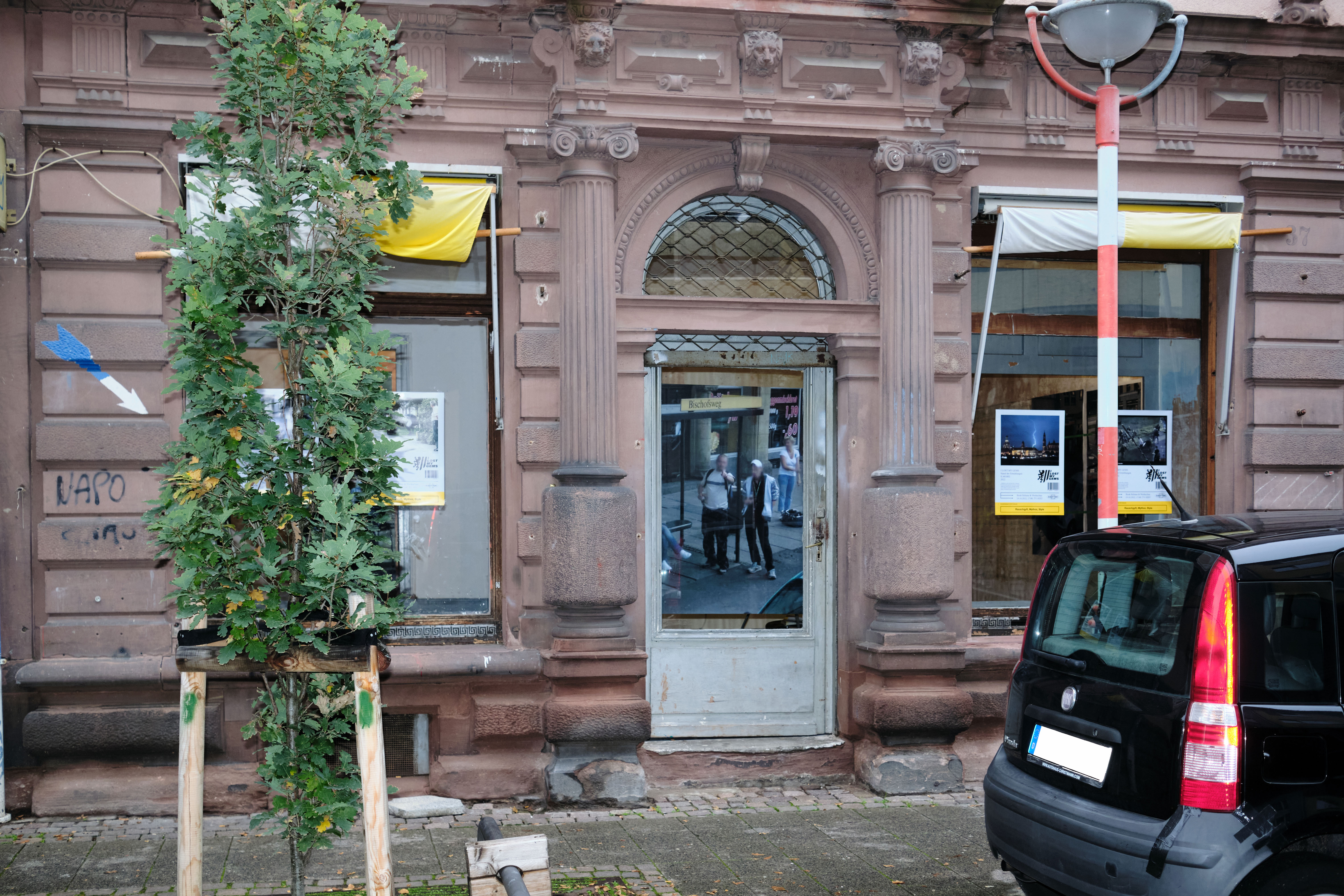 \